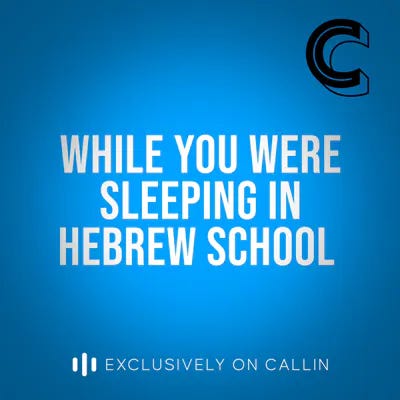 Jan 21 • 37M
Remembering Soviet Ukraine's Overlooked Holocaust Victims
A local writer's new book unearths the little-known history of mass murder in Romanian-occupied Ukraine—and his family's survival.
When Seattle writer and publicist Maksim Goldenshteyn was 23, his grandfather started telling him about his experience surviving a death camp in Romanian-controlled Ukraine. Years later, the results of his conversations, studies, and reporting comprise a beautifully written book, So They Remember, which comes out today. With International Holocaust Remembrance Day coming up next week, this is a good time to acknowledge the vastness and the miraculousness of Holocaust survival stories.
Giveaway time: Share this post in your social media channels, tag me or send me a screenshot, and win a free copy of So They Remember! (Limited to five.)
---
Happy Anniversary!
It's been exactly one year since I launched The Cholent. Time for me to offer a shoutout to you: to those of you who subscribed right away without knowing what this would be, to those of you who subscribed as recently as last week, to those of you who read and share your thoughtful reflections, to everyone who thinks this is a worthy endeavor.
When I shared my first post, it felt like jumping off a diving board into water of uncertain coldness. It was an exercise of vulnerability. What if I can't finish what I started? What if everyone hates me?
Well, more than 40 articles/interviews/podcasts later, The Cholent has become part of the rhythm of my week, and the response has been incredible. Thank you!
Been on the fence? Take this opportunity to subscribe for 20% off the already very cheap annual fee!
I also have advertising packages and a "Brisket Level" subscription level designed for organizations. Talk to me about banner ads and media sponsorship!
---
Updates
I was thrown for a loop this week when the Daily Wire put out a story on Tracy Castro-Gill, a main character in my article on Washington state's ethnic studies curriculum. Unsurprisingly, this bombshell of a report has been picked up by a few conservative sites, and I haven't seen anything about it in the mainstream local press.
It's easy to write off conservative media, and yes, this was quite the hit piece. However, as far as the reporting goes on her work history, it's accurate. In fact, it doesn't go quite far enough, in my opinion, to demonstrate her chaotic work relationships and fear she instilled in people around her. I have no reason to be interested in her personal life, but her and her organization's role in Washington's ethnic studies framework and her role as a leader in bringing ethnic studies to schools far and wide should raise concerns for the Jewish community — and everyone.
---
On the Bright Side
J. Kenji López-Alt says Seattle bagels are as good as New York's. Here are his Top 5
Thanks man.
---
Community Announcements
Check out the Seattle Jewish community calendar and the virtual calendar.
This week's parasha is Yitro.
Candlelighting in Seattle is at 4:35 p.m.
Remember to subscribe to my new podcast on Callin and tune in Tuesday night for an interview with Matti Friedman!